Images are a powerful tool to assist seniors with dementia. Images help to communicate and bring up memories, especially when it becomes difficult to understand regular speech.  
With our frames, you have the option to personalize the blanket with images of your choice. You can insert any photos sized 1.9 by 3.1 inches (5 by 8 cm). 
No images in this size? We got you! Follow the steps on this page to get your image in the right size.
Follow these 5 simple steps to print your image
Click on the button and upload your favorite photo. The tool will automatically scale your image into the right size and allow you to download it.
For the best fit, we recommend vertical images. Horizontal images will only fit half of the frame. Remember that seniors have more difficulty seeing details and depth, so make sure you use clear and recognizable images.
The tool supports the most popular image types (PNG and JPG).
Select and upload your favorite image and it will be ready to download! 
No image or in need of extra inspiration? Download our free template with 9 beautiful images to help spark your elder's memory!
*Note: your privacy is important to us! Your uploaded photos are not shared with anyone and will be deleted from our server.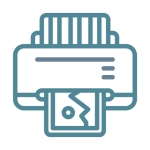 You are ready to print when you've downloaded the template(s). We recommend using a color printer and photo paper for the best results.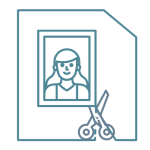 Snip, snip! Cut out your images from the printed page with
your best scissors.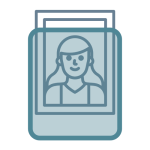 Insert your pictures in the plastic frames on the blanket. Easy peasy!
Enjoy endless variations!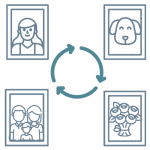 Switch the pictures regularly (e.g., weekly or monthly), so that the elderly can look at different memories every time. In this way, you support their brain activity and cognition and spark new joy every time!
Experiencing any problems or need some assistance?
Please send us an email at support@odoxia.com and our team will respond to your question within 24 hours.